The World's most relied upon
Office and Home-Office Ergonomics Software
Working comfortably, safely and productively using Ergonomic Best Practices requires a partnership between employers and their employees.  Any group can achieve it, with the right tools.
ErgoSuite is an easy-to-use state-of-the-art software toolset designed for Windows 10, Windows 11, MacOS or completely Web-based use – elegantly crafted for Office, Hybrid and Remote Employees.
Leveraging ErgoSuite, you will significantly improve comfort, safety and productivity while reducing risk exposures, cases and injuries.  Satisfaction is 100% guaranteed.
Join the world's most successful companies who invite their employees in traditional and home-based offices to share in the responsibility for a comfortable, healthy and productive time working on their computers.  
You can energize, protect and enable your employees to flourish wherever they're located.
ErgoSuite works with your employees in their native language: 
Arabic, Chinese Simplified, Chinese Traditional, Dutch, English, French
French Canadian, German, Indonesian, Italian, Japanese, Korean, 
Norwegian, Polish, Portuguese, Russian, Spanish, Swedish. Thai, Turkish


Leverage The Full Integrated Solution

or Just Use The Tools You Need Today

Designed for Windows 10, Windows 11, MacOS or used completely web-based, ErgoSuite is "an office and home-office ergonomics all-in-one solution, proven over many years, which employers leverage to cost-efficiently enable employees to self-correct, get professional assistance and improve employee comfort, safety, wellbeing and productivity throughout their organization."
Simple to implement, new clients with limited or no resources in place are up and running in days while new clients having existing resources in place simply combine them with the ErgoSuite tools they need, as a step of continuous improvement, for a seamless sustainable turnkey solution.   
Measurable clear objective results are delivered through empowering employees so they can help themselves and form healthier enduring habits while working on their computer at their office or home-based offices.
ErgoSuite's elegantly crafted easy-to-use tools have been engineered to deliver value for any size employer from small organizations up through the Fortune 50 where ErgoSuite's trusted at enterprise scale by more of the world's most successful companies than anywhere.
Office Ergonomics Software

designed for

Office, Hybrid & HOME-BASED

Employees
Best Practice Office Ergonomics,
Done Well

In 20 Languages

For The New Normal

For Telecommuters

For The Office

For Home Offices

For Employees

For You

For Your Bottom Line

For Risk Mitigation

Remarkably Low Priced

You Can Count On

For During COVID 19

For Beyond COVID 19
For Your Employees

– Web and/or Desktop Based Tools


Use Everything

or Just What You Need Today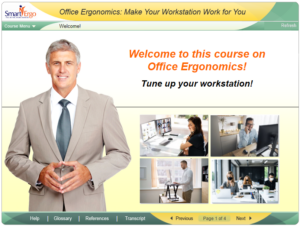 Ergonomics Training For Office, Hybrid and Home-Based Employees
Created by our Ergonomists, Doctors, Instructional Design experts and clients working together as a steering committee, this action-based course assists employees with properly setting up or tuning up their workstation in their office or home-based office.

The customizable course is interactive and fun, presenting essential office ergonomics fundamentals, workstation setup, keying, mousing, movement, stretching, microbreaks, neutral postures, lighting, workplace organization, reach zones and more... Module self-checks and final quiz confirm knowledge transfer.

Designed to be modular for busy employees who can complete micro-learning modules, leave and then return another time to complete the self-paced experience. Upon completion, the course becomes a reference guide for future reference.

Includes the comprehensive ErgoTutor Home Office Setup Checklist. Available within ErgoSuite or as a plug-in for your Learning Management System (LMS).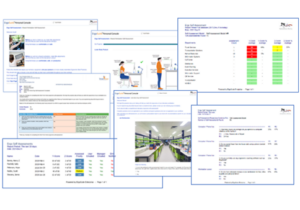 Self-Assessments - Physical, Behavioral and Psychosocial Ergonomics
Employees perform self-assessments and receive personalized reports including personalized checklists of corrective actions if needed. All aspects of the process, user experience, content and data produced are easily customizable and controlled through your central Administration Console.

Offer unlimited different self-assessments via models (templates), use the pre-built default self-assessments delivered with ErgoSuite or add your own. Simplify and streamline the self-assessment process, centralizing the resulting consistently-structured data for reporting, analysis and follow-up. Includes optional Risk Scoring and Ranking, EHS Notifications and more.

ErgoSuite's optional Psychosocial Ergonomics tools are based, in part, on the global standard COPSOQ III (Copenhagen Psychosocial Questionnaire) which identifies, locates and measures psychosocial risk factors and stress and facilitates the planning and implementation of improvement measures.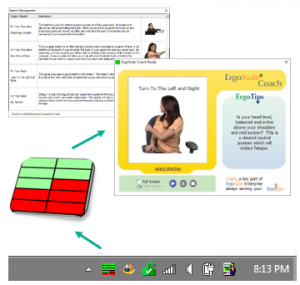 Personalized Expert Behavioral Coaching (Windows 10, Windows 11 and MacOS)
ErgoSuite Coach, helping people improve their behaviors since 2000, embodies the evidence-based science of Applied Behavioral Analysis harnessing Operant Conditioning to help employees learn to make healthy ergonomic behaviors automatic.

ErgoSuite's patented methods observe activity and recovery time in order to personally coach users precisely when needed using Biofeedback to prevent tissue damage and help make neutral postures, micro-breaks and stretching all automatic behaviors for optimal employee comfort, safety, wellness and productivity.

This unique intelligent Biofeedback tool is the glue that binds together the evidence-based science of Office Ergonomics to become a sustainable effective solution.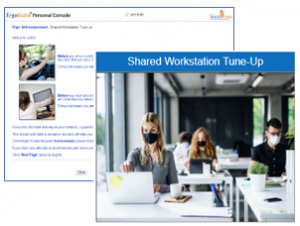 Shared Workstation Quick-Tune-Up For Hybrid Employees
Before you drive a rental car, you make little adjustments any time that you were not the last person driving it. Doing this keeps you comfortable and safe.

Before you work at a shared workstation, make little adjustments any time that you were not the last person using it. Doing this keeps you comfortable, safe, and productive.

Of course employees are not all the same size. Hybrid employees follow the customizable checklist and adjust their furniture, equipment, and their posture so it more closely resembles Ergonomic Best Practices.

Only takes a minute and helps the employee feel most comfortable throughout their time working when they come into the office.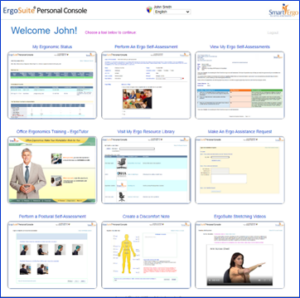 Intuitive Web-based Personal Ergonomics Console
A web-based personalized toolset for employees where you can offer ErgoSuite's trusted office ergonomics tools including self-assessment, ErgoTutor Office Ergonomics Training and other front-line tools without requiring a desktop installation for the point-of-use behavioral coaching tools.

Control which tools are available, add your own resources, images, links where you can fully control the entire look and feel to match your needs, organizational brand and culture.

Extremely popular and heavily used at clients, employees in traditional offices and home offices are one click away from all you have available to care for them.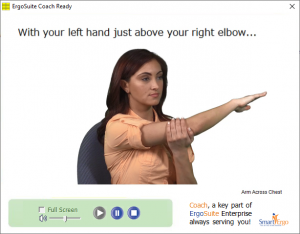 High Definition Stretching Videos
Orthopedically designed HD videos clearly demonstrate proper gentle stretching by culturally diverse live coaches in casual business attire. Designed to be easily followed in real time at your office or home-based workstation.

Beyond guided stretching by coaches, they regularly reinforce all of the ergonomic information from the ErgoTutor eLearning course including neutral posture, workstation setup and tune up, movement, lighting, nutrition, etc...

Extensive control capabilities are available through ErgoSuite's centralized Administration to manage stretching and the messaging throughout the organization.


ErgoSuite for Windows 10, Windows 11, MacOS or completely web-based works with your employees in their native language:
Arabic, Chinese Simplified, Chinese Traditional, Dutch, English, French, 
French Canadian, German, Indonesian, Italian, Japanese, Korean, Norwegian,
Polish, Portuguese, Russian, Spanish, Swedish. Thai and Turkish
What Do ErgoSuite Users Say?
"I like it when it tells you to take a break from your computer cause a lot of people stay on for ever and need breaks..."
"Great how it teaches you ergonomics in a fun and friendly fashion."
"The micro-breaks are terrific, before I had constant wrist pain, but now after the micro-breaks they're gone."
"Great idea! Wonderful program for us people that sit at a computer ALL day long."
"I really like the easy quick exercises and its helpful to have a reminder."
"Love how I'm given reminders and it's user friendliness."
"Made me learn about some risks and how to prevent some of them with minor adjustments and stretching."
"I like the helpful hints it gives on how to relieve eye strain and such."
"Simple and easy to use, very informative."
"It makes me feel better in the work area!"
"It gets you moving and not sitting down all day"
"Gave tips to make time on computer more comfortable"
"I like the fact it's easy to use and that it helped prevent cramps or strains on my body."
"It is easy to follow and gives me good information."
"I enjoy knowing that I am not "glued" to the computer because sooner or later I'll get a microbreak."
"I think that the program help a lot with our health."
"Muito bom gostei de todas as partes. Very good is good al parts."
"Exercising isn't something u really consider doing while on a computer, it really does help a lot!"
"Very user friendly :> GOOD!"
"I like the fun way in which it approached this whole topic."
"A good tool for telling me when I have been at the computer too long"
"Reminds me to REST!! Good Job even my wife didn't do so :>"
"Very useful for when I stayed up late at night working and surfing the web. Since I installed it I've been a lot more comfortable after being on the computer all day instead of aching and tired like usual."
"You don't have to worry about your health, the program does it for you."
"I enjoy that it guides me. It made the program easy for me to use."
"Its nice to have something there to remind u to take breaks, time does fly while at the computer and most times u don't realize it..."
"Tons of information, it helps me out a lot."
"It helped me learn to get up away from comp."
"Very detailed : dummy proof : Changes your habits!"
"Allows you to realize how much time you actually are spending on the computer."
"It is easy to use and does a good job explaining why and what you should do when taking a break."
"It is very easy to use."
"The software is very useful and fast."
"It is overall easy to use."
"It remember to take care of myself"
"Nice software for take brief break from typing when need it."
YOU

CAN

 PROTECT AND RE-ENERGIZE

YOUR

EMPLOYEES TODAY
Increases Your Circulation

Improves Your Posture

Helps Prevent Discomfort

Calms Your Mind

Reduces Tension Headaches

Prevents Static Postures

Helps Stress Relief
FOR HSE AND RISK MANAGERS

– SaaS WEB-BASED TOOLS


USE EVERYTHING

OR JUST WHAT YOU NEED TODAY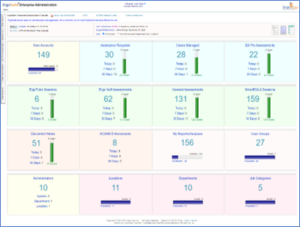 Role-based Centralized Management and Collaboration
Meticulously designed to serve any sized employer with many locations including a growing number of home-based telecommuters.

Role-based Administration manages how Administrators are defined and endowed with authority, employee responsibilities and permissions.

Upon securely logging in, they're presented with as much of the employee population, services and tools as their responsibilities require.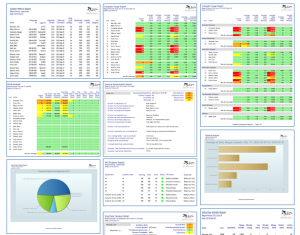 Reporting, Tracking and Analysis
Many types of reports and analyses are available within an infinite number of templates you can create which contain the requirements, specifications and customizations of any Administrator. Tabular reports, complex reports and a wide assortment of charts are available where all of the characteristics of any report, analysis and chart can be customized. Reports and analyses can focus on any groupings or individuals with views which clearly compare countries, business units, departments, locations or any unique groupings of employees.

All reports and analyses can easily be scheduled for automatic delivery on any regular basis or be delivered when triggered by any events. In addition, any collection of reports can be seamlessly and automatically assembled into Report Books for logical and organizational purposes. All reports and report books can be exported to alternative formats including Excel, PDF, CSV, TIFF, etc...

Analysis classes provide for quite complex reporting requirements, research and analysis where you can specify any combination of the 400+ risk metrics automatically available in ErgoSuite's Data Warehouse from simply using the platform.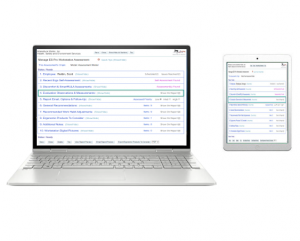 Professional Assessment Models
Powerful software tools designed for portable devices (e.g. iPad, Surface, Android, Notebooks, etc…) for EHS to use when performing any type of workstation assessments.

Helps simplify and streamline the workstation assessment process, centralizing the resulting consistently-structured information within ErgoSuite for reporting, analysis and follow-up. Unlimited assessment models enable you to load your own checklists and professional assessment processes or use the pre-built default assessments delivered with the platform.

Add images and any other documents to assessments. Catalog approved equipment and furniture products and vendors for EHS staff to easily select during the assessment process and final report.

Produces professional reports which are easily understandable by employees.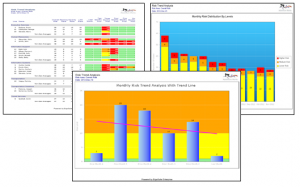 Risk Analysis, Management, Trend Modeling
Throughout the risk-based platform, risk is managed through ErgoSuite's unique Risk-based Logic Engine using flexible Qualitative and Quantitative Analysis.

Measure and report on the Riskscape of your organization over time as well as utilize Multi-variable Trend Analysis to indicate trends and future directions.

While the Risk Engine is comprehensive, the resulting representation of risk is no more complicated than the analogy of "School" where you have a Grade Point Average representing a student's subjects. In ErgoSuite, the "Grade Point Average" is the Overall Risk and the "subjects" are Risk Areas. These can be aggregated to accurately represent relative risk for Business Units, Departments, Locations, Job Categories, etc... and the entire organization.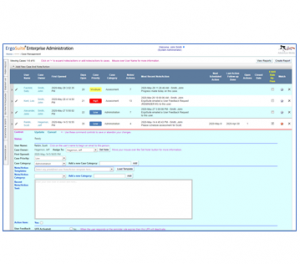 Case Management, User Feedback
Supports the Ergonomic Process through a facility to maintain records of interactions and interventions with employees.

Collaborate with any number of colleagues supporting the interaction or intervention.

Options include action scheduling and follow-up, employee satisfaction surveys which can automatically re-open or close cases, document attachment and much more.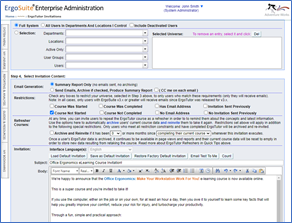 Invitation and Communication Management
Powerful tools enable you to manage and automate email invitations used for introducing the platform and automatically following up with employees.

Control complete customization of the emails, subject, body with full HTML content for text and images. All communications are automatically saved for records.

Emails can be issued by processes responding to events or thresholds adhered to or exceeded.


Wherever Your Employees Are,
You Can
Empower And Help Them Flourish
Help Them Remotely
Deliver Personalized Assistance
Ensure Consistency
Reduce Risk Exposures
Improve Comfort
Improve Wellbeing
Improve Productivity
Mitigate Unseen Remote Risks
Meet Compliance Requirements
Track Ergonomic Metrics
Track Utilization
Identify Trends
Report Status and Progress
platform:

25+ Years experience Updated TWICE yearly
For Today's Knowledge Worker
Covering Office, Hybrid and Home-Based Employees, Kiosk Workstations, Virtual Terminals, Hot Desking, Sit-Stand Work Surfaces, Notebooks, Tablets, Phones, Multiple Monitors, Travelers and more...
Affordable For Organizations of Any Size
Average cost of ownership is pennies per employee day initially and drops to a fraction of that afterwards. Choose between Ownership or Term Usage with monthly or annual payment.
SaaS Secure Cloud or Your Local Server
Choose SmartErgo's Secure Cloud Hosted Solution on our US, EU or AU servers or use your own internal server within your firewalls where ErgoSuite will be entirely located adhering to Microsoft Best Practices 100%.
Straightforward To Implement and Deploy
Successful models are available and flexible for unique client requirements. Full implementation assistance included at no additional cost.
Customization For Every Tool Available
Most customization is included at no added cost within our commitment to exceed client expectations. For high complexity requests, we'll scope and quote the work for you.
Personalized Service and Support
You will have a dedicated proactive Personal Account Success Manager who knows you, your needs, requirements - and actually cares.
Ergonomics Regulatory Compliance, GDPR Ready
Maintain compliance with every ergonomic regulation around the globe including GDPR provisions for platform users.
Scalability Through Any Number of Employees
Painstaking attention to detail has been allocated to efficiency and optimizing performance to enable substantial deployments.
Advanced Risk Modeling Engine
The data-driven Risk Modeling Engine was designed to help clients with limited EHS resources in order to focus attention on where they're most needed.
Secure Document Management
Maintain a centralized full Repository of Documents (library) created or uploaded during interactions and interventions with employees.
Measurable ROI Within First Year
Independent university research has evaluated and confirmed complete return on investment, with complete use, well within the first year of ownership.
Quantify, Measure and Manage Risk
Quantify risk, measure it, improve it's profile and manage any of the 400+ ergonomics metrics within the Data Warehouse.
for office, hybrid and Home-BASED EMPLOYEES:


Empower employees enabling them to
share in the responsibility for healthy computing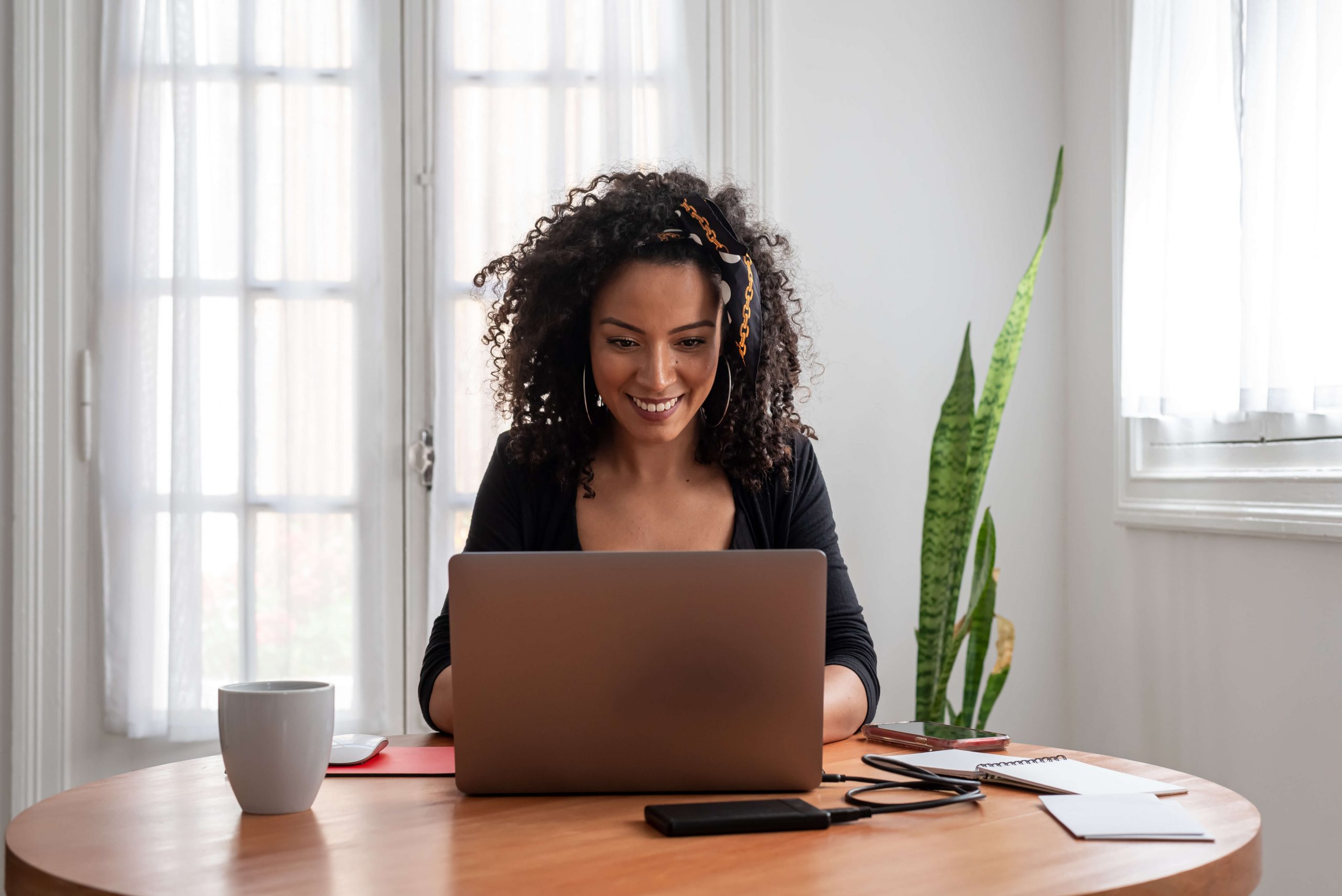 Assess
Employees, Identify Risk and Accumulate Metrics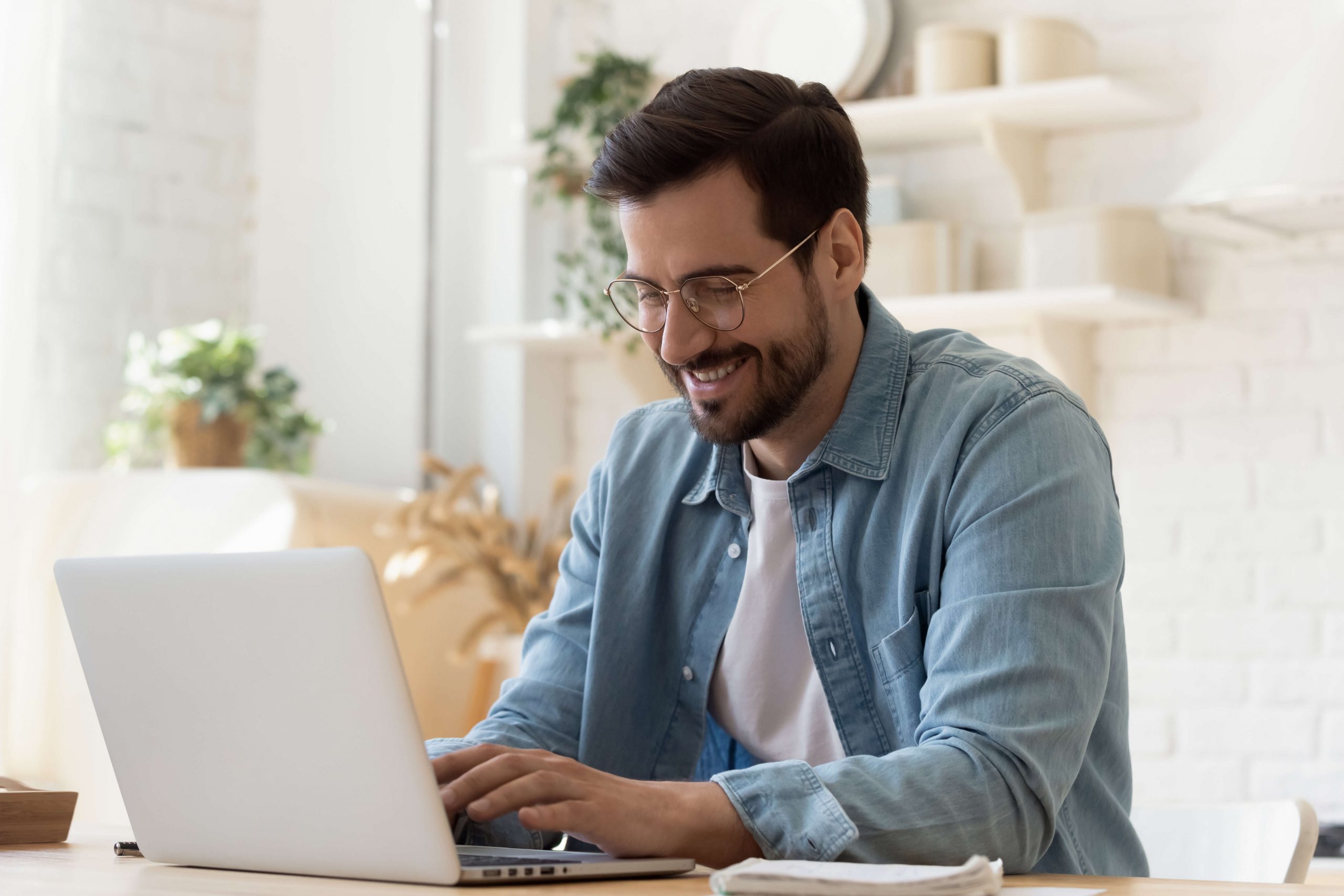 TRAIN
Using Action-based Interactive Modules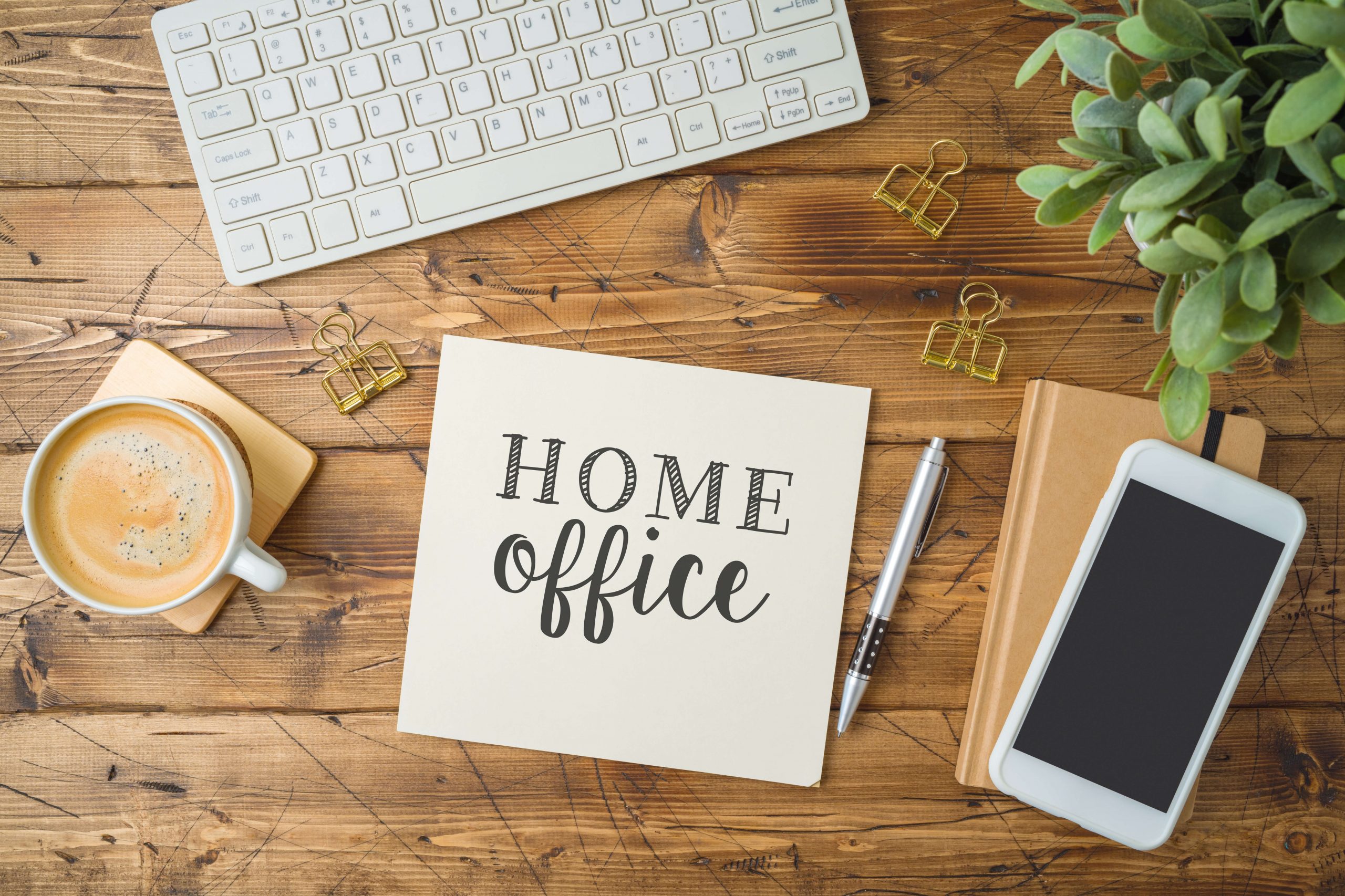 IMPROVE
Workstation Setup, Neutral Posture, Pacing & Movement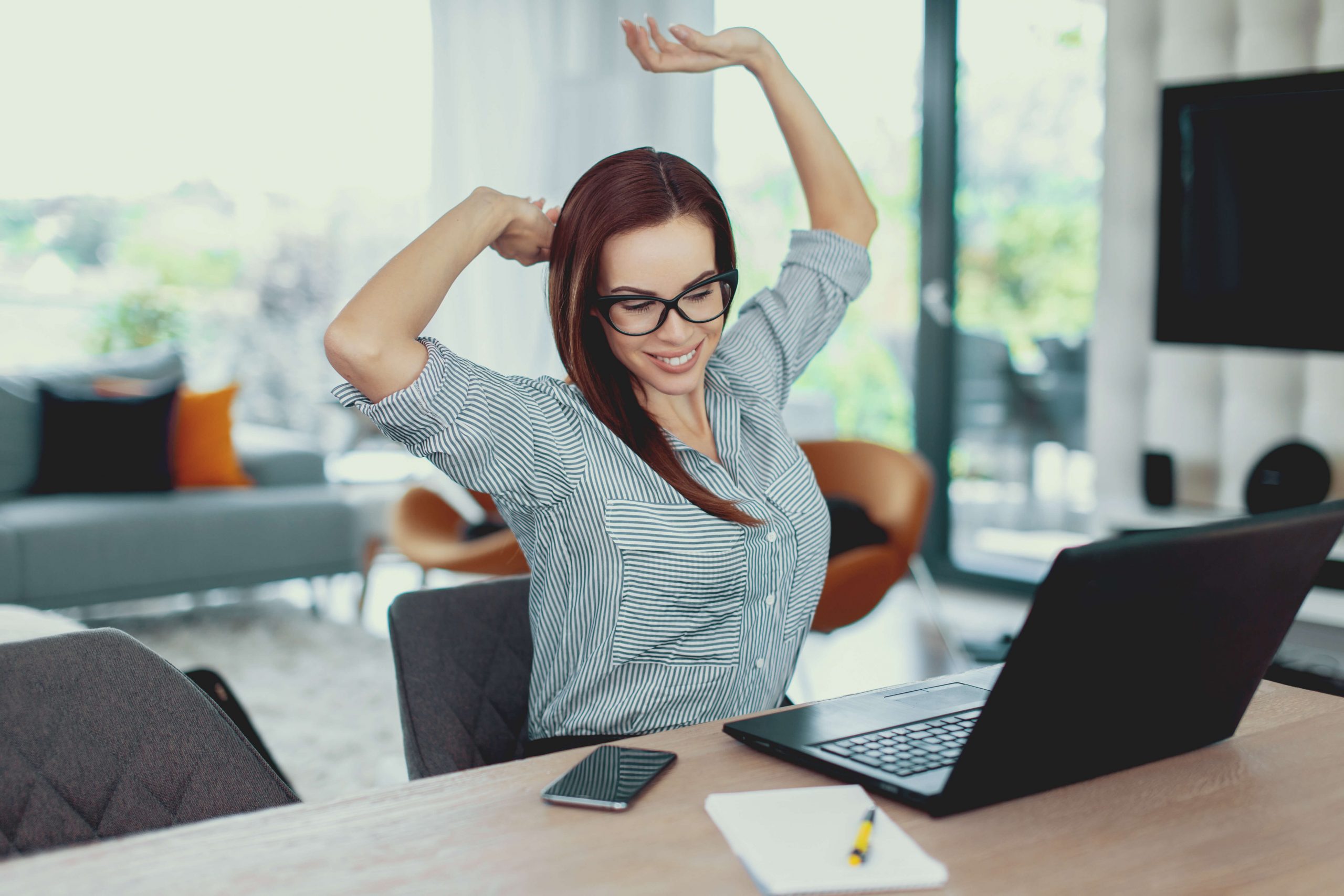 COACH
Using Personalized and Effective Reinforcement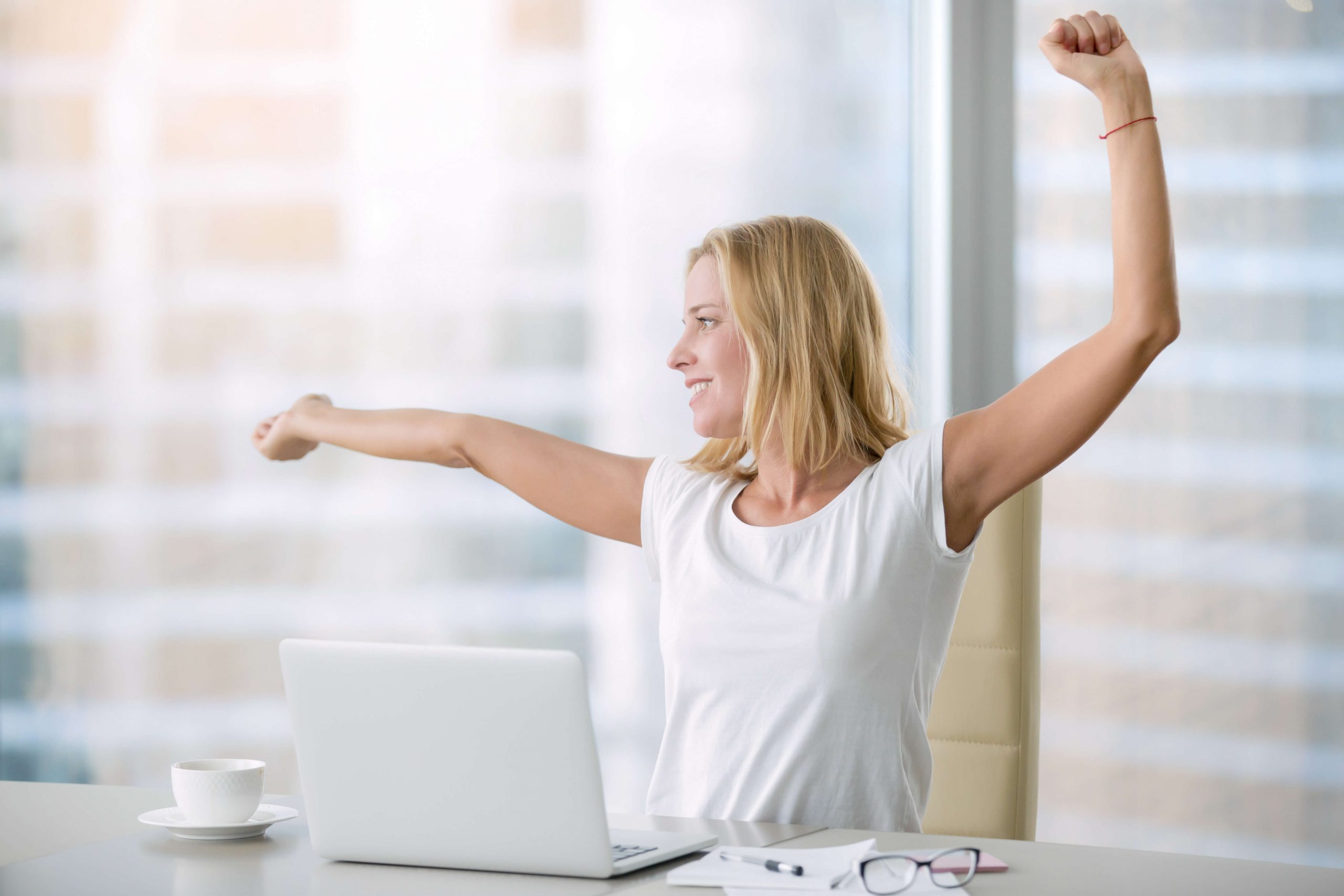 SUSTAIN
A Safe and Productive Work Environment
YOU

CAN RE-ENERGIZE AND PROTECT

YOUR

EMPLOYEES TODAY