Our Workscape today would have been nearly impossible for the average manager to imagine before the pandemic. Regardless, here we are with the majority of workers who have jobs compatible with remote work, working from home.
Most employer attention over the past few months has been focused on operational infrastructure to simply enable the change in work venue.
Unfortunately, within those same few short months, workers have regressed 40 years in office workplace safety advancements. This is because of, even with the best intentions, the abrupt improvisation of new home offices to rapidly meet functional requirements of their work.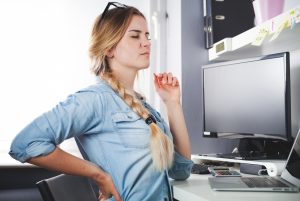 What about the worker and "their" well-understood physiological health and safety requirements?  What are the impacts on both the employee and employer from not addressing these requirements?
Deeper long lasting change is well underway as many of the world's leading companies, for sound business reasons, have already announced that "Work From Home" status for their employees will certainly outlive the pandemic in various forms within the "New Normal" we've all heard about.  
An August 27th article in CNN Business "90% of Employers Say Working Remotely Hasn't Hurt Productivity" cites an 800+ large company survey by Mercer, an HR and workplace benefits consulting firm.  Some take-aways from the survey include:
Out of Sight is Not Out of Mind
It's old news and scientifically well-understood how the human body is not designed to remain in static postures for prolonged periods without significant, highly predictable and costly consequences for both employees and their employers.  
It's also well-understood how employees using computers need to share in the responsibility for healthy computer-work and practice good ergonomic behaviors such as adopting neutral postures and microbreaking – in order to mitigate risk factors which commonly lead to discomfort, impaired productivity, MSDs as well as significant healthcare over-utilization which begins to occur long before injury is realized and a new case is finally reported and official.
Providing a Structured Managed Safety Program for home-based telecommuters is essential for many reasons and considered by most professionals to be at least as important as for workers at an organization's physical facilities where there's control of the environment, furniture and equipment. 
Effectively encouraging the best practice behaviors of working in neutral postures, pacing, periodic stretching and movement "remotely", however, can be challenging on its own.   These are, after all, human "behaviors" and the well-structured domain of the 100 year old science of Applied Behavioral Analysis.
Knowledge Training Is Not Behavioral Training
Recently, many employers have been realizing that simply purchasing adjustable furniture and workstation equipment for remote employees and providing informational training, although important steps, is not enough to make good ergonomic behaviors automatic.  Subject matter experts call this The Behavioral Wall.
If the "Setup and Inform Model" worked in human behavioral change, then everyone would have been using seatbelts while driving and there would have been no need for seatbelt reminders to be required in automobiles by law.
Continuing that thought, more than 100 years of Applied Behavioral Analysis clearly shows that you don't change people's behaviors by simply providing adjustable seat belts in cars. You also do not change people's seat belt behaviors simply by having them take an online course or otherwise telling them to.
What's required and what's saved millions of lives has been to reinforce the targeted behavior at the point-of-use. Behavior change is all about positive reinforcement at the point-of-use and Operant Conditioning.
The take-away here is that computer-using employees are simply trying to perform their work at the best of their abilities to meet deadlines and objectives and not focused on EH&S and Healthcare Utilization – which is your job and vital for your organization's financial health more so now than it's been over the past 20 years before this abrupt expansion of Work From Home telecommuters.
This diligent Work-From-Home employee, dedicated and wrapped up in his work, didn't have time to read the emailed memo on Ergonomics.  Unless he's properly trained, properly sets up his work area and completes his Ergo Self-Assessment, he's out of sight and unidentified as someone with high risk of unnecessary significant chronic discomfort first appearing as an unexpected injury and potential Workers' Compensation Case.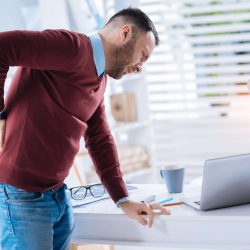 Innovative Strategies Clients Are Using Now To Ensure Successful Behavioral Change
Some of the ways companies are leveraging ErgoSuite's tools across their remote Work-From-Home workforce include the following.  For immediate effective impact, without almost any effort at all, employers can keep to just the top three tools below and then consider anything further in the future:
ErgoTutor Office Ergonomics Training: Home Office Workstations
Employees are directed to complete the action-based course and "tune up" their home office workstations in addition to learning the best practices they should follow to share in the responsibility for healthy computing while working on their computers at home.  Employees are also directed to print and complete the Home Office Setup/Tune up Checklist, provided within the course.  In addition, employees are often required to complete the Ergo Self-Assessment version of the Home Office Setup/Tune up Checklist which produces a personalized follow-up report for every employee in addition to gathering key data on the status of the Work-From-Home employee population for EH&S.
A number of clients have customized the course and checklist to contain information unique for their companies.  Most employees are taking the course from within ErgoSuite and others are taking it directly through their company's Learning Management System (LMS).
Ergo Self-Assessments
Clients are heavily using this web-based tool with ErgoSuite's built-in self-assessments for Office and Home-Office, while many others have created their own specialized self-assessments in ErgoSuite to gather a consistent baseline of ergonomic information about their employee populations working from home offices identifying outlying situations which can be resolved through a phone call, email or other contact.  
Often at clients, employees are required to complete the Ergo Self-Assessment version of the Home Office Setup/Tune up Checklist which produces a personalized follow-up report for every employee in addition to gathering key data on the status of the Work-From-Home employee population for EH&S and get a confirmation that employees have followed the checklist fully.  Some clients are customizing the checklist of recommendations contained in the personalized reports employees can receive after submitting their responses.
Desktop Behavioral Coaching Tools
ErgoSuite's coaching tools are being heavily promoted to help employees learn to automatically work with the desired behaviors of using neutral postures, taking micro-breaks while working and moving about periodically during their day to stretch and break up static postures.  Some clients have modified their ErgoSuite Desktop Icon Menus adding company-specific links to internal COVID-19 resources while others have done similarly with their web-based ErgoSuite Personal Console Menu.
Some clients are adding new pandemic-relevant messaging directly into ErgoSuite's Coaching Cues for reminders on regularly washing hands, keeping their keyboards, pointing devices and microphones clean and disinfected plus other currently relevant guidelines applying to people working from home offices.
Ergo Assistance Requests & Discomfort Notes
Some clients have organized and promote use of ErgoSuite's Ergo Assistance Requests for orderly consistent processing of home office ergonomics needs of employees.  Some clients have designated specific people as Responders and others as Overseers based on the employee's department, location or other criteria so the requests are routed correctly and efficiently.
SmartRULA Postural Self-Assessments
A large number of clients require employees to perform at least one SmartRULA Postural Self-Assessment while at their home office workstation to get a baseline of each employee's quantified posture as well as provide a personalized report of recommendations to help the employee improve their posture where needed.
Some employees are performing their postural self-assessments directly within ErgoSuite's point-of-use behavioral coaching toolset and others are performing it from their web-based ErgoSuite Personal Console.
ES Pro Workstation Assessments
Most clients, if not all, are heavily leveraging ErgoTutor and other ErgoSuite tools as their front-line surface area for employees using computers.  For the fractional percentage of situations which cannot be directly resolved by the employee and which require professional assistance, clients are conducting in-person or virtual professional assessments as interventions as needed before small problems become big issues.
Administration and Reporting
Some clients have recently reassessed and updated their requirements for documenting and tracking ergonomic data naturally accumulating through ErgoSuite use across their organization.  Clients have expanded their automated reporting and analyses to effect a radar-like function for better understanding telecommuter organizational status and emerging trends relating to their Work From Home employees.
In addition to the above, about 99% of our clients are promoting Discomfort Messaging for early reporting – in order to resolve issues while they're small and have the highest likelihood of success at the lowest cost – instead of later and unaddressed when they're reported as part of an injury report.
We have also seen a number of clients adding the ErgoTutor Office Ergonomics Training eLearning Course as an effective immediate plug-in for their own Learning Management System (LMS).  It's comprehensive and available to employees within minutes after loading which takes about one minute.