Prior to 2020, employee stress had already been clearly identified as a highly costly and disruptive health issue affecting employers.  This year, however, employee stress has understandably become more acute as it has steadily intensified mostly due to the COVID-19 Pandemic.  
Add to that, the economic stress being shouldered by people at all pay grades, as well as stress from regional disasters such as wildfires, floods and storms.  In short, most people are receiving chronic, significant and life-impacting stressors from multiple sources so far this year with no reassuring end in sight.
Employee stress, beyond its own innate pathology, is also a condition with contagion-like characteristics which can spread like viruses through employee conversations, chats, emails and online meetings.  For these and many other good reasons, employee stress has become an important mission-critical priority on the radar of employers concerned about organizational effectiveness and wellness.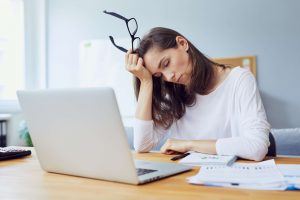 Unrelenting chronic stress inflicts many impacts on employees, management, processes, collaboration and of course the bottom line – but how can we clearly identify exactly where it is and determine its extent?
It's not surprising how with the massive and abrupt transplant of "the workplace" from our traditional offices to our home offices, in the middle of a pandemic, employee stress is at all time highs.  Another article at Kaiser Permanente Business "Workplace Stress — The $300B Business Problem That's Only Getting Worse", probes the extent of the iceberg beneath the water line: 
Stress, A Dangerous Accelerant in The Development of Musculoskeletal Disorders
We've known for quite some time that stress creates physiological responses, which have been the focus of a significant body of research over many decades.  Interestingly, research has conclusively determined that stress plays a significant role, as an independent variable, in the development of Work-Related Upper Extremity MSDs.  
The understanding of stress being an independent variable correlating to Musculoskeletal Disorders as the dependent variable is far too important to ignore.  Simply said, stress can play a significant role in the development of workplace injuries of computer users.
At this moment, a virtual hand should be raised and a reader should ask: "How can something you experience in your mind impact physical ergonomics, such as in the case of computer users which mostly driven by their behaviors of posture, movement and recovery time?"
The answer has been widely researched and well-understood for many decades:
Beyond the innate physical pathology of musculoskeletal disorders and eventual workplace injuries of computer workers, this additional factor of "employee stress" prominently layers on top of the need of actively managing computer user behaviors including posture, movement and recovery time as an important organizational mitigation strategy and best practice.
Anatomy of a Perfect Storm
There are three extremely significant dynamics which have been occurring since early in the Pandemic and will continue for the foreseeable future:
Combining these factors in the holistic equation of Health and Wellness, left unchecked, something will have to give at some point in many employees and therefore will significantly impact the organization they're employed by.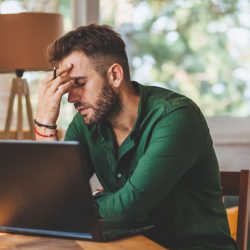 "If you can't measure it, you can't manage it." – Peter Drucker
Your intrepid author here will assume that in your organization before 2020, processes and employee work were probably executing well or were at least known quantities being managed.
Then, COVID-19 presented and upheaves the world.  
All of us, including you and your employees, have been under extraordinary stress for many months now and will continue to be – most likely throughout 2021.
This unrelenting stress inflicts many impacts on your employees, management, processes, collaboration and of course the bottom line – but where is it located and to what extent?   Two fundamental questions arise for each organization:
          Have we measured stress in our organization "recently"?  
          Do we want to help our employees broadly or "effectively where it's needed"?   
For clients leveraging ErgoSuite today, you've already confirmed from your own usage data that you have truly unique, effective and sustainable tools which significantly improve the critical Work From Home employee behaviors of posture, movement and recovery time – even when those behaviors are aggravated by stress which is increasing steadily over time due to the Pandemic.  
There is, however, an additional high-value mitigation step you can take which is to identify, locate and measure the stress impacting your computer using WFH employees so you can effectively address it – and then measure the results of your efforts.
Responding to requests by clients, ErgoSuite now includes it's Work Wellbeing Toolkit which enables employers of all sizes to quite easily identify, locate and measure psychosocial risk factors and stress.  This facilitates the data-driven planning and implementation of targeted counter measures, effectively where they're needed most:
Why Locate and Measure Stress When We Already Know It Exists?
One answer can simply be understood through reviewing a science-based rational example of Organizational Threat Mitigation Strategy such as is being applied to the COVID-19 pandemic today.  Note that, in the case of countries and COVID-19, sometimes socio-political factors complicate mitigation strategies, however, that should not be a factor within organizations.
Organizational Threat
Mitigation Strategy
Applied To Countries
In The Case of COVID-19
Applied To Organizations
In The Case of Stress
Macro Level – Broad Strategies Are Generic For All – COVID-19 Examples: United States, U.K., France, Japan, Canada, etc…
Broad Application of Helpful Guidance, Resources and Tools Applied
E.g. Social Distancing, Wearing Masks, Washing Hands Regularly
Conduct Prevalence Assessment (COVID-19 Testing) To Measure Extent and Where
Broad Application of Helpful Guidance, Resources and Tools Applied
E.g. Broad Stress Management Resources From EAPs, Health Plans and Providers
Conduct Prevalence Assessment (Anonymous) To Measure Extent and Where
Cohort Level – Group Strategies Are Targeted, Data-Driven By Prevalence Assessment Data – COVID-19 Examples: State By State, New York vs Florida, City by City, etc…
Group by Group Applications of Targeted Guidance, Resources and Tools based on Assessment Analysis Results
E.g. Targeted Use of Mandated Guidance for Social Gatherings Practices, Business Practices, School Practices, etc…
Group (cohort) Level examples include States, Provinces, Counties, Cities, etc…
Group by Group Applications of Targeted Guidance, Resources and Tools based on Assessment Analysis Results
E.g. Targeted Use of Stress Management Tools and Resources Leveraged from EAPs, Health Plans and Providers
Group Level examples include Departments, Locations, Job Categories, Other, etc…
Individual Level – Specific Assistance Driven By Request/Other – COVID-19 Examples: Individual Cases, Person by Person, etc…
Individual Assistance
E.g.  Self-Quarantine, Self-care, Family, Friends, Physician and/or Hospital As Needed
Individual Assistance
E.g.  Self-care, Assistance/Support from Colleagues, Groups and Professionals As Needed