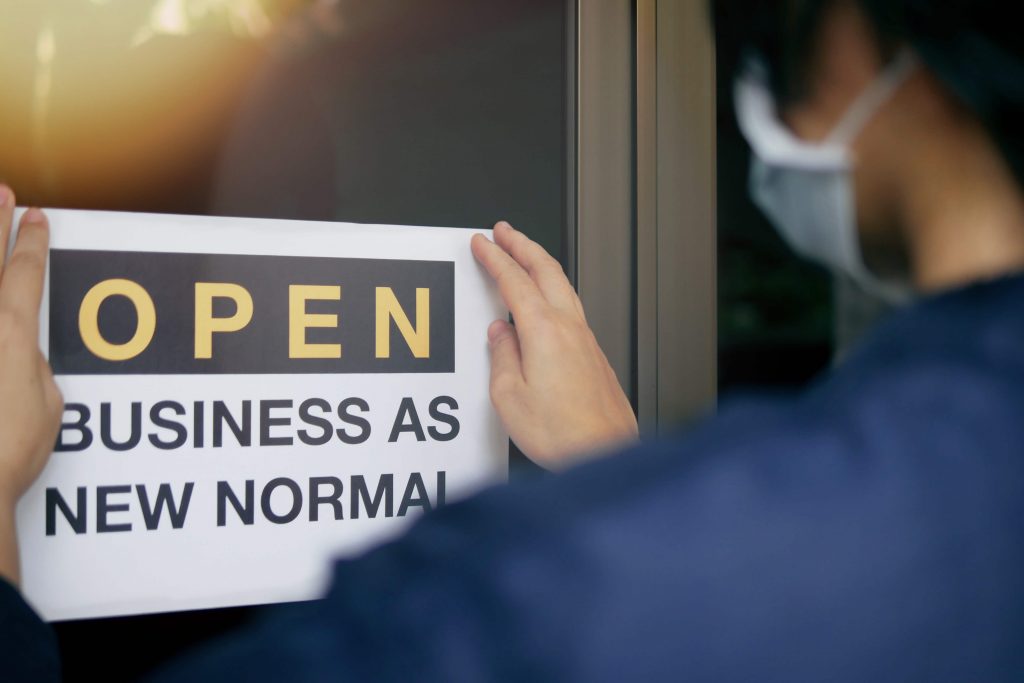 As our world works its way out of the COVID-19 Pandemic, the abrupt evolution of the "Employee Value Proposition" and "How Work Gets Done" have catalyzed employers into rethinking their Workscape.
Employers are facing numerous challenges within Return To Work projects while simultaneously evolving their management of Office, Hybrid and WFH employees onward.
It's happening regardless, with "Hybrid" as the strategic and propitious middle ground providing solid economies and opportunities to strengthen performance and operational resilience.
In this article, we'll focus our timely lens on three interconnected apex dynamics which are challenging employers today, and we'll discuss pathways to address them (don't miss the Risk Analysis Charts further down below):
Simply said, the Employee Value Proposition is "your promise made as an employer and actually delivered to your employees in return for their service and commitment". Central in your Employee Value Proposition is providing a comfortable, safe and low risk work experience for your knowledge workers.
In the absence of doing that fully and completely, or worse yet procrastinating thus leaving a hole in your Employee Value Proposition, it appears there are clearly numerous employment opportunities available for your high-value employees elsewhere according to May 25, 2021 published research by Gartner Group "Gartner HR Research Shows Organizations Must Reinvent Their Employee Value Proposition to Deliver a More Human Deal ".
So how does Employee Value Proposition factor into (1) the "employer experience" and (2) "employers' threat radar scopes"? We can be certain from talking with clients around the globe that it's quite prominent on the radar scopes of employers and, further, it's considered acutely temporal, recognized as a "serious current issue".
An eye-opening June 13, 2021 article in The Wall Street Journal " Forget Going Back to the Office — People Are Just Quitting Instead ", refers to the latest data released by the U.S. Department of Labor "According to the Labor Department, nearly four million people quit their jobs in April, the most on record, pushing the rate to 2.7 percent of those employed." That is one month and an enormous amount of churn of high value talent moving between employers.
Pragmatically, the next thought is one of unexpectedly having to budget new costs of finding, hiring and retraining even just one replacement employee – assuming your Employee Value Proposition attracts candidates above other employers' Employee Value Propositions. Again, the numbers cited are objective hard data published by the U.S. Department of Labor and not estimates.
Regarding knowledge workers, an integral component of the Employee Value Proposition includes how they should be most comfortable and feel cared for by their employers while working on their computers. Unnecessary preventable discomfort, stress, fatigue and potential injury are all very negative employee life experiences. Further, these negative life experiences are pre-injury experiences, and left unabated they severely erode the Employee Value Proposition every day.
Distinct Ergonomic Challenges Among The Groups: Office, Hybrid and WFH
There are a number of clearly understood challenges facing each of the three groups of employees. Just one of the subtle challenges includes how Hybrid employees (working some days in their employer's offices and the other days remotely at home) will most often be sharing office workstations on alternating days with other people.
If all people had identical anthropometrics (body dimensions) then you could simply position the furniture and equipment once and it would serve everyone equally – however people are not identical in size and dimensions.
Different from WFH scenarios, in traditional facility-based offices, employers have control of the furniture and equipment. In your employees' homes, however, we see employees working in an infinite variety of well-meant yet high-risk improvised ways.
How many significant risks can you spot in this photo of a person working from home?  Unless you're going to visit her home in person or virtually, how can she learn to identify issues and resolve them on her own?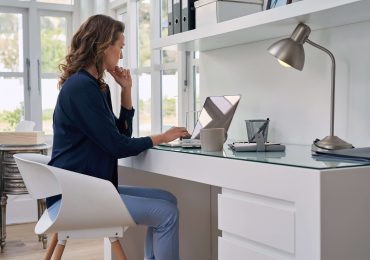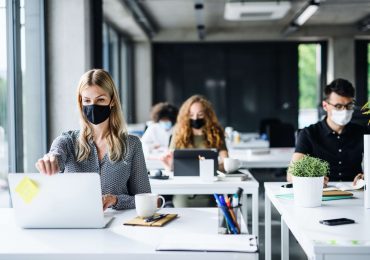 Consider this person in the foreground working at her employer's office in shared workspaces.  How will she remember to best position her furniture and equipment for her anthropometrics each time she starts an "at office" day?  Is it any different than two people sharing one car where each time they get into that car to drive they take a brief moment and adjust the seat, mirrors, seatbelt, etc… for a comfortable and safe journey?
Identify and Resolve Ergonomic Challenges Among Office, Hybrid and WFH
Fortunately, employers can leverage technology and, in effect, "be everywhere they need to be at the same time" thus turning on the lights and, in effect, identifying remote risks and helping employees to improve and make better health decisions.
Employers can leverage ErgoSuite to assess, train, improve and coach employees so they can learn to correctly position the furniture, equipment "and themselves" as a part of new improved more healthful behaviors.  Add microbreaks, stretching and movement and now you've achieved a highly improved and managed state through one very inexpensive and very easy to implement step of continuous improvement.

You know your employees.  ErgoSuite knows your employees' ergonomics through helping them to be more comfortable, more productive, fatigue at a slower rate and reduce their risk factors for discomfort and potential injury.  
With ErgoSuite it's easy to measure risk, identify risk and know "exactly where your organization stands" at any time based on your live data: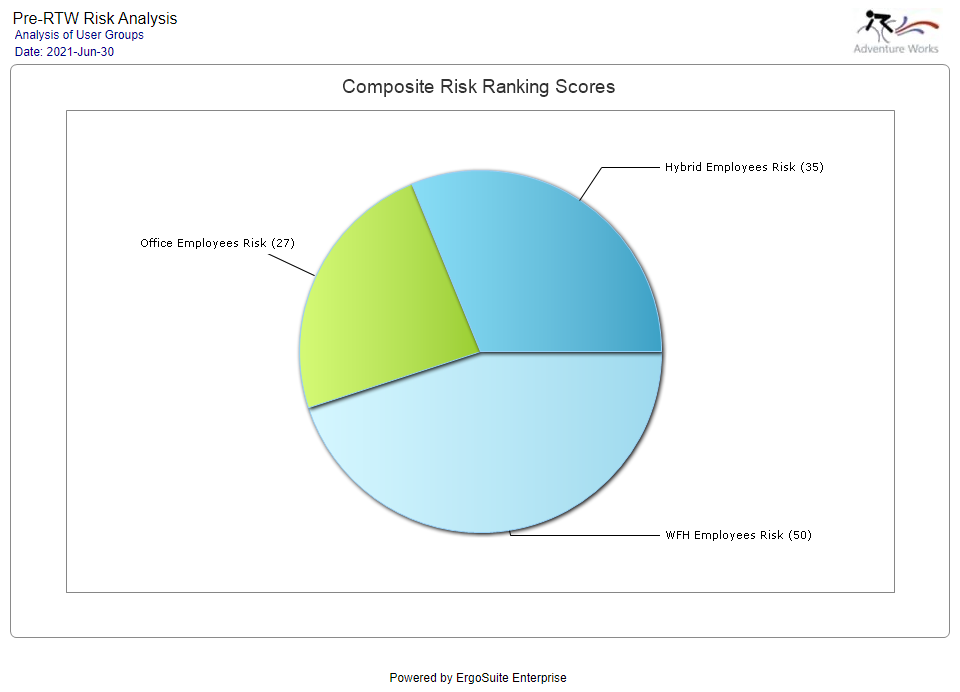 Perhaps you will be asked to track your program status?  With one button click, you can display your program's status (or tell ErgoSuite to automatically email you status reports on any scheduled basis (choose among ErgoSuite's many chart styles/motifs for your own preferences):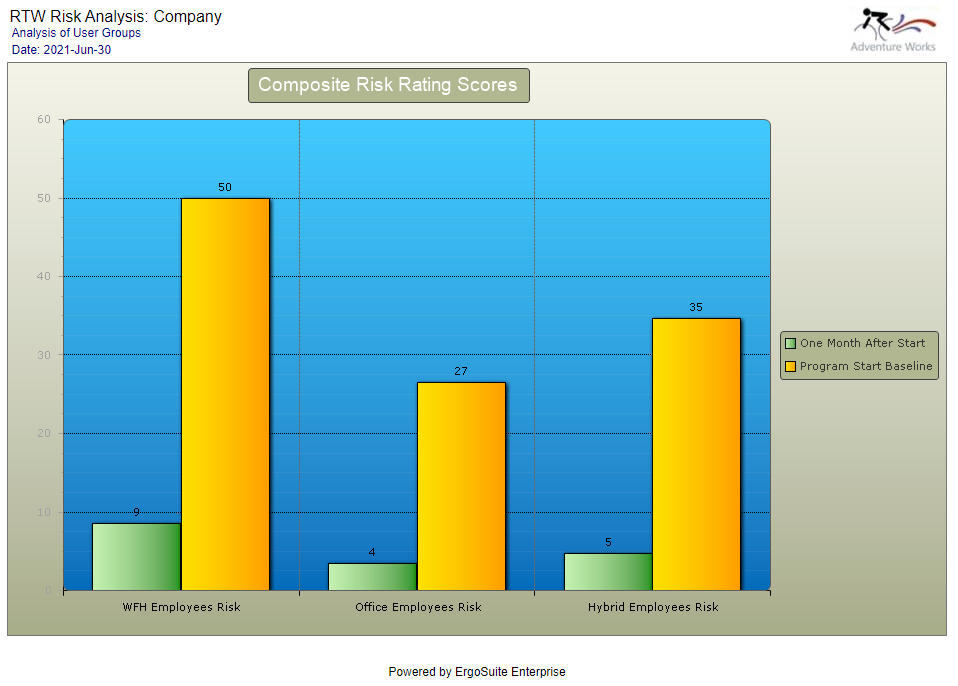 Perhaps you would like to track your program status by Departments, Business Areas, Business Units or by Locations or by Countries or by Job Types – or by any other grouping you can imagine?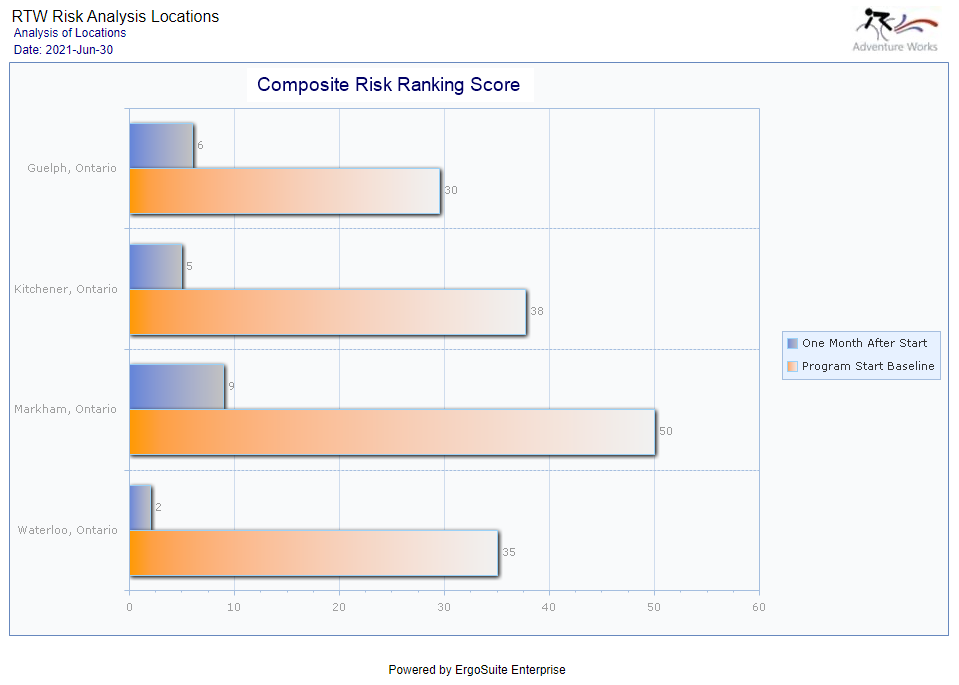 Are you interested in reporting on and analyzing Risk or Stress Within Your Organization or anything else regarding the wellbeing of your employees and the wellbeing of your organization? 
In fact, you can easily track and report on your status using any of the 400+ Ergonomic Risk Factors within ErgoSuite for your employees within seconds or have ErgoSuite email you status reports on any schedule you require.
Hybridization – Continuous Improvement & Operational Resilience
Employers can leverage the lessons of the pandemic's forced abrupt changes, take decisive strategic action and become leaner and stronger by engineering higher organizational resilience through supporting a higher percentage of telecommuting within their workforce ahead of a next pandemic or future new wave of the current pandemic.  All of this does not need to incur higher risks and can be done strengthening your Employee Value Proposition.
To achieve higher Employee Value Proposition and higher organizational resilience in the post-pandemic world, it is not required to "have all knowledge worker employees telecommuting full time".  
Instead, forward-thinking companies who have most, perhaps even all, of their knowledge worker employees telecommuting even just two or three days every week will be in a well-engineered and highly-competitive position to pivot more quickly in a crisis, mitigate much operational disruption in a crisis and attain this strategic business-continuity strength.