As we leave the historic year of 2020 behind and optimistically enter 2021, our thoughts go out to all who have been impacted by COVID-19.
Before reviewing another case study confirming behavior improvement of a large population of computer users through objective data, we're proud to share recognition of SmartErgo by Enterprise Security Magazine as part of its selection of "The Top 10 Risk Management Solution Providers 2020", the one company of its kind selected to be in the prestigious grouping and the second year in a row receiving this recognition.
"Over time, we, and our clients, have received various awards specifically in Office Ergonomics and now, considering the much broader universe of Risk Management overall, particularly during a global pandemic, we're delighted to be recognized more widely, as one of the Top 10 Risk Management Solution Providers in 2020," said Marc Frega, SmartErgo CEO. 
Case Study 37 – 404,266,869 Observations 
While many of our newest clients have had training and support programs already in place, some have shared how they've decided on leveraging ErgoSuite to convert knowledge into sustainable behavior improvement.  These forward looking organizations embrace Continuous Improvement as a Best Practice, enabling them to adapt to a continuously evolving Riskscape.  
In the case of people working on computers in offices and home-based offices, these Best Practice desirable behaviors are (1) working in neutral postures and (2) providing brief recovery time during work coupled with movement and gentle stretching.
Imagine if you had a virtual extension of yourself who will personally visit with each and every employee at their office and home-based office today, teach them key actionable best practices of computer ergonomics, help them assess and tune-up their at-home work area and thereafter personally coach them to learn to automatically move about and stretch periodically while they work, without having to think about it. 
That's part of harnessing the power of ErgoSuite, however, how do you know that the coaching is efficacious and to what extent?
Many people are familiar with the saying "a picture is worth a thousand words".  Well, here's "a picture worth 404,266,869 keystrokes and mousing seconds". This is an actual ErgoSuite data chart analyzing a year's usage of ErgoSuite's Employee Tools by a large population of knowledge workers.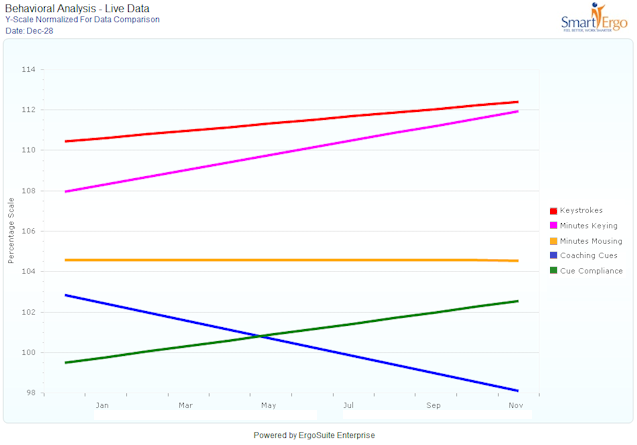 What Does The Chart Depict?
Reduce Discomfort, Fatigue and Eventual Injuries Due To Poor Ergonomic Behaviors
During this highly-effective behavioral training, ErgoSuite, which has been helping people improve their behaviors since 2000, provides unique operant conditioning through positive reinforcement effectively helping employees learn to adopt neutral postures and pace themselves – learning microbreaks – eventually realized as new automatic behaviors. ErgoSuite's unique behavioral training is automatically tuned to each employee individually in real-time working in concert with their ever-changing patterns of duration, repetition and recovery time at any moment in time.
There is no panacea here. It all happens steadily and gradually over time which precisely tracks well-known models of human behavior change as taught by Applied Behavioral Analysis. There is no perfectly-straight day-to-day or month-to-month progression of behavior change as this process involves a complex system of computer software, artificial intelligence and human beings. For each employee, there are days with two steps forward and there are days with one step backwards. This is the real world of effective sustainable long-term behavior change.
The only way these new behaviors become sustainable is when the employee learns to change their behavior where they can automatically pace themselves, stretch and increase daily movement without having to focus on it. This is no different from how a musician benefits from the coaching of a metronome while developing their rhythm. This is the ideal time to positively reinforce neutral postures and awareness training.

People's capacity to learn new behaviors will vary from time to time based on many factors, however, the progression of objective data in the above chart is quite clear and significant representing how these employees are learning to automatically set their pace or beat while working with a computer for certain. ErgoSuite understands Relapse Theory quite well and gently helps employees through those times with special care.
When employees can finally automate good ergonomic behaviors including working in neutral postures, providing brief recovery time during work with movement and gentle stretching, they're more comfortable and produce more at a higher quality of work and lower risk profile.

Other hazards such as optics, contact stress and environment issues need to periodically be addressed as identified, however, when you read every country's regulations and laws regarding office ergonomics, you clearly see the huge prominence of the two key employee behaviors – posture and pacing.

Moreover, you absolutely and effortlessly can objectively and conclusively measure both risk levels and behavior change in office ergonomics.  Already have training and self-assessment?  Great, ErgoSuite, by design, will seamlessly couple with existing resources to create sustainable behavior improvement in any size population of employees.