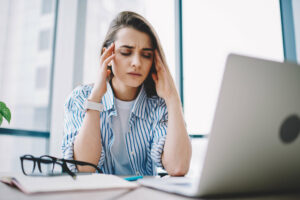 Chronic stress inflicts many impacts on employees, management, processes, collaboration and of course the bottom line.  Further, relating to the focus of this venue, numerous studies have confirmed how chronic stress contributes to the development of Musculoskeletal Disorders.  
A recently published research study yields actionable new insights into employee attitudes and trends including how employee stress has become more acute "now", in some areas even higher than during the most-uncertain early days of the Pandemic.
Extensive new research was just published by Aflac Insurance in the "2022-2023 Aflac WorkForces Report", which examined employee attitudes and trends through surveys, conducted by Kantar, capturing responses from more than 2000 employees and 1,200 employers across the United States in various industries.
Reported in this most-recent research, we discover some of the findings include:
From the new research report: "Unsurprisingly, in the last two years, responses largely reflected the historic period of volatility driven by the COVID-19 pandemic. Earlier this year, with COVID-19 on the decline and the economy seemingly making a comeback, things appeared to be looking up. But then inflation began to rise, and economic pundits everywhere began whispering about a looming worldwide recession."
Delving into some pressure points including the numbers, we see:
For all of the important reasons, we all want our employees to have a comfortable, positive, productive and safe experience while working on their computer whether it be in the office or home-office.
Clearly, physical comfort, stress and fatigue each inexorably impact feelings contributing to psychological wellbeing.
Mitigating ergonomic risks can be surprisingly straightforward using evidence-based science and methods, however, desired outcomes aren't achieved unless the prescriptive guidance is forged into enduring improved behaviors.  It's also clear from reading articles authored by doctors who caution that duration is also a serious threat here where the duration they're referring to is the time that the unhealthful behaviors are permitted to continue.
Ergonomics Best Practices
At many times throughout our lives, each of us encounter situations where we'll greatly benefit from improving our behaviors.  Specifically regarding employees working on computers, we understand, guided by more than 40 years of evidence-based science, that to work comfortably, safely and most productively we need to conduct our behaviors in known healthful ways including:
One fact gleaned from the evidence-based science over the past 40 years includes that "people working on computers who are not using neutral postures, not moving about periodically and not providing recovery time" are likely to develop discomfort and, left unmitigated, eventual reportable MSDs.  
This is of particular concern as it's been well-established how employees working in poor ergonomic conditions with discomfort and high stress are significantly higher consumers of healthcare services and have higher incidence of health issues including musculoskeletal disorders long before an injury case.  What's more concerning is that healthcare over-utilization is by no means confined to traditionally perceived high-risk groups.
A number of major studies have been published, over the past decade, which have examined this topic with many thousands of employees at multiple employers. An example study "Work Loss, Healthcare Utilization, and Costs among US Employees with Chronic Pain" (Disease Management & Health Outcomes, Volume 13, pp. 201-208(8)), studied thousands of full-time employees and the annual total costs experienced for medical, pharmacy and productivity.