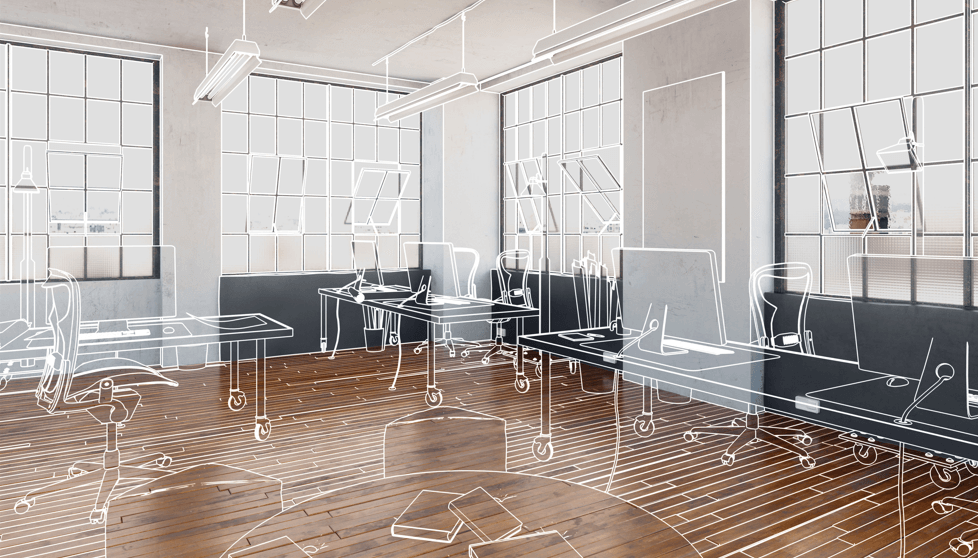 Employers continue working on Shared Workspace Readiness projects while simultaneously working through projects of mitigating significant ergonomic risks facing employees working remotely either full-time or hybrid-time.  
The remote risk exposures being targeted are well-understood and deleterious to productivity, Employee Value Proposition and the bottom line.
It's abundantly clear, from speaking with many clients around the globe, that the only thing about this pandemic which employers can count on is that viral transmission understanding and governmental guidelines are both dynamically evolving and will remain so at least through 2021 and most likely well into 2022. 
As such, the vast majority of employers have embraced the Hybrid Work Model as the pathway to buttressing the Employee Value Proposition, operational resilience and the bottom line.
While many of our newest clients have already had some sort of training and support programs in place, these employers have shared how they've chosen ErgoSuite to translate Ergonomic Best Practice knowledge into sustainable behavior improvement in the shared-workstation office and home-based office.  These forward looking organizations embrace Continuous Improvement as a Best Practice, enabling them to adapt to this continuously evolving Riskscape.  

In the case of people working on computers in shared-workstation offices and home-based offices, these Best Practice desirable behaviors are (1) working in neutral postures and (2) providing brief recovery time during work coupled with movement designed to break up extended static postures.
Imagine having a virtual expert who will personally visit with each and every employee at their office and home-based office today, teach them key actionable best practices of computer ergonomics, help them assess and tune-up their at-home work area and thereafter personally coach them to learn to automatically move about and stretch periodically while they work in neutral postures, without having to think about it. 
That's part of harnessing the power of ErgoSuite, but how do you know that the behavioral coaching is efficacious and to what extent?
Case Study 24 – 595,260,706 Observations – Consistent Results
This study's data (below), reminds us of an earlier study by a university research team at an Insurance Brokerage Risk Management firm where they measured the impact of an earlier version of ErgoSuite on their employees using computers at least one hour each day.
Below, we're looking at an actual ErgoSuite Enterprise chart where we've chosen to utilize Least Squares Linear Regression Lines (trend lines) to reliably model extensive underlying data's movement over time.
This chart summarizes a comprehensive twelve month research project, analyzing 595,260,706 keystrokes and mousing seconds belonging to a large population of knowledge workers including a diverse spectrum of job functions.
The live chart illustrates the achievable efficacy of Behavioral Office Ergonomics for reducing fatigue, increasing comfort, effecting actual behavior change and, yes, productivity improvement – which any organization of any size can sustainably realize.
When we properly empower employees, who can then meaningfully share in the responsibility of their comfort and safety and learn to automatically pace themselves while working in more neutral postures, then they will fatigue at a slower rate, be more comfortable, work at a lower risk profile, have fewer injuries and produce a higher output at a higher quality.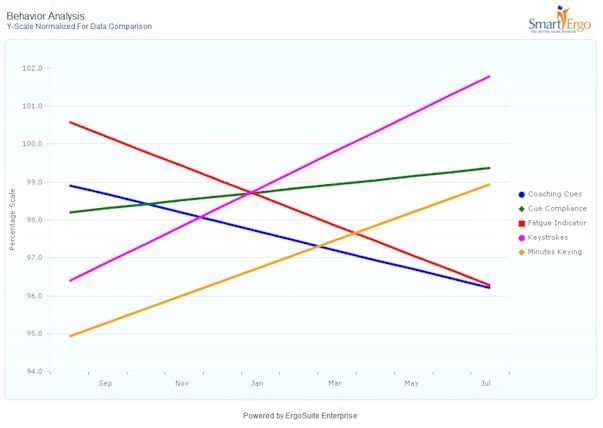 In respect of the data and outstanding results, we'll keep the commentary brief and simply report on the details here:
The only way these new behaviors become sustainable is when the employee learns to change their behavior where they can automatically pace themselves, stretch and increase daily movement without having to focus on it. This is no different from how a musician benefits from the coaching of a metronome while developing their rhythm. This is the ideal time to positively reinforce neutral postures and awareness training.

People's capacity to learn new behaviors will vary from time to time based on many factors, however, the progression of objective data in the above chart is quite clear and significant representing how these employees are learning to automatically set their pace or beat while working with a computer for certain. ErgoSuite understands Relapse Theory quite well and gently helps employees through those times with special care.
When employees can finally automate good ergonomic behaviors including working in neutral postures, providing brief recovery time during work with movement and gentle stretching, they're more comfortable and produce more at a higher quality of work and lower risk profile.

Other hazards such as optics, contact stress and environment issues need to periodically be addressed as identified, however, when you read every country's regulations and laws regarding office ergonomics, you clearly see the huge prominence of the two key employee behaviors – posture and pacing.

Moreover, you absolutely and effortlessly can objectively and conclusively measure both risk levels and behavior change in office ergonomics.  
Currently don't have training or self-assessment?  Great.  ErgoSuite will provide you an out-of-the-box solution you can easily customize, if you wish, and be up and running very quickly.
Already have training and self-assessment?  Great.  ErgoSuite, by design, will seamlessly couple with existing resources to create sustainable behavior improvement in any size population of employees.