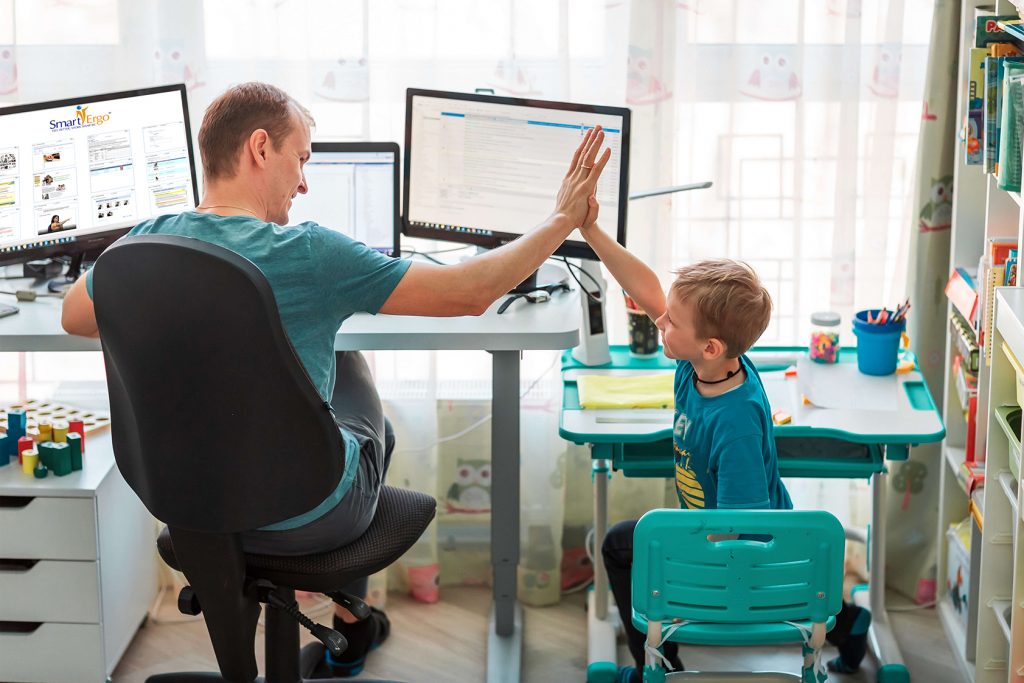 This COVID-19 pandemic has forced rapid evolution of the workplace as many knowledge workers have been abruptly transitioned out of traditional offices into their new home offices. 
In traditional facility-based office environments, employers have control of the furniture and equipment.  With that as a base, they leverage ErgoSuite to assess, train, improve and coach employees so they can learn to correctly position the furniture, equipment "and themselves" as a part of new improved behaviors.  Add microbreaks, stretching and movement and now you've achieved a highly improved and managed situation.
In your employees' homes, however, we see employees working in an infinite variety of well-meant yet high-risk improvised ways.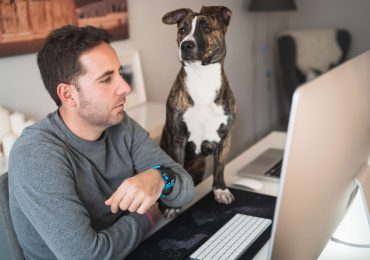 Your intrepid author noticed a new study published July 3, 2020 by the University of Cincinnati College of Medicine.  The study "The Home Office: Ergonomic Lessons From the "New Normal", emphasizes the need for frequent brief breaks for telecommuters, working at home, which are required to stay healthy and minimize injuries.
Dr. Kermit Davis, PhD, a professor in the UC College of Medicine said: "The body doesn't like static postures continually. You don't want to do all sitting or all standing all the time. You want to alter your position and change it up throughout the day."
The study focused on the makeup of home workstations used by nearly 900 telecommuters and cited the following findings:
Fortunately, EHS professionals can leverage technology and, in effect, be everywhere they need to at the same time thus turning on the lights, in effect, identifying and cataloging significant remote risks and helping employees to become informed and make better health decisions.
Known Risks in New Remote Locations
The science of Ergonomics relating to computer-users defines the hazards quite clearly: 
Ergonomics Safety Best Practices and Workers' Compensation
A March 16, 2020 Business Insurance article "Coronavirus and Telecommuting: New Exposures for Employers", is representative of what are now many articles from companies in the industry regarding guidance for employers on risk exposures for telecommuters and repetitive strain injuries. The full article is well worth reading while some excerpts include:

Innovative Strategies Clients Are Using Now
We've spoken with many clients recently who are leveraging their ErgoSuite platforms to extend their Office Ergonomics safety net at their facilities to their employees newly telecommuting from home.
At the high level view, clients are leveraging ErgoSuite as their front-line surface area for employees and centralized EH&S management toolset for identifying status and trends and managing outlying situations:
Some of the ways companies are leveraging ErgoSuite's tools across their telecommuting workforce include the following.  For immediate effective impact, without almost any effort at all, employers can keep to just the top three tools below and then consider anything further in the future:
ErgoTutor Office Ergonomics Training: Home Office Workstations
Employees are directed to complete the action-based course and "tune up" their home office workstations in addition to learning the best practices they should follow to share in the responsibility for healthy computing while working on their computers at home.  Employees are also directed to print and complete the Home Office Setup/Tune up Checklist, provided within the course.
A number of clients have customized the course and checklist to contain information unique for their companies.  Most employees are taking the course from within ErgoSuite and others are taking it directly through their company's Learning Management System (LMS).
Ergo Self-Assessments
Clients are heavily using this web-based tool with ErgoSuite's built-in self-assessments, while many others have created their own specialized self-assessments in ErgoSuite to gather a consistent baseline of ergonomic information about their employee populations working from home offices identifying outlying situations which can be resolved through a phone call, email or other contact.  
Some clients have taken the Home Office Setup/Tune up Checklist from ErgoTutor and created custom self-assessments with the checklist items so they can get a confirmation that employees have followed the checklist fully.  Some clients are customizing the checklist of recommendations contained in the personalized reports employees can receive after submitting their responses.
Desktop Behavioral Coaching Tools
ErgoSuite's coaching tools are being heavily promoted to help employees learn to automatically work with the desired behaviors of using neutral postures, taking micro-breaks while working and moving about periodically during their day to stretch and break up static postures.  Some clients have modified their ErgoSuite Desktop Icon Menus adding company-specific links to internal COVID-19 resources while others have done similarly with their web-based ErgoSuite Personal Console Menu.
Some clients are adding new pandemic-relevant messaging directly into ErgoSuite's Coaching Cues for reminders on regularly washing hands, keeping their keyboards, pointing devices and microphones clean and disinfected plus other currently relevant guidelines applying to people working from home offices.
Ergo Assistance Requests & Discomfort Notes
Some clients have organized and promote use of ErgoSuite's Ergo Assistance Requests for orderly consistent processing of home office ergonomics needs of employees.  Some clients have designated specific people as Responders and Overseers based on the employee's department, location or other criteria so the requests are routed correctly and efficiently.
SmartRULA Postural Self-Assessments
A number of clients are requiring employees to perform at least one SmartRULA Postural Self-Assessment while at their home office workstation to get a baseline of each employee's quantified posture as well as provide a personalized report of recommendations to help the employee improve their posture where needed.
Some employees are performing their postural self-assessments directly within ErgoSuite's point-of-use behavioral coaching toolset and others are performing it from their web-based ErgoSuite Personal Console.
ES Pro Workstation Assessments
Most clients, if not all, are heavily leveraging ErgoTutor and other ErgoSuite tools as their front-line surface area for employees using computers.  For the fractional percentage of situations which cannot be directly resolved by the employee and which require professional assistance, clients are conducting remote professional assessments as interventions as needed before small problems become big issues.
Administration and Reporting
Some clients have recently reassessed and updated their requirements for documenting and tracking ergonomic data naturally accumulating through ErgoSuite use across their organization.  Clients have expanded their automated reporting and analyses to effect a radar-like function for better understanding telecommuter organizational status and emerging trends relating to their Work From Home employees.
Continuous Improvement
Companies can now leverage the abrupt change, take decisive strategic action and become stronger by engineering higher organizational resilience through supporting a higher percentage of telecommuting within their workforce ahead of a next pandemic or future new wave of the current pandemic.
To achieve higher organizational resilience in the post-pandemic world, it is not required to "have all knowledge worker employees telecommuting full time".  Instead, forward-thinking companies who have most, perhaps even all, of their knowledge worker employees telecommuting even just two or three days every week will be in a well-engineered and highly-competitive position to pivot more quickly in a crisis, mitigate much operational disruption in a crisis and attain this strategic business-continuity strength.