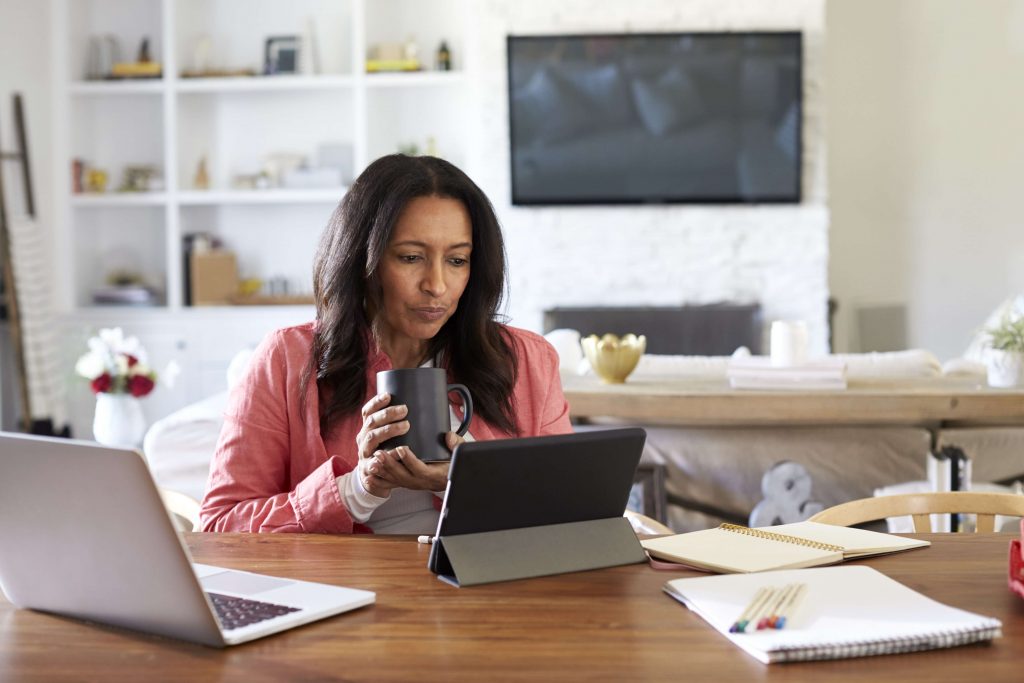 Our Workscape today would have been nearly impossible for the average manager to imagine before the pandemic.  
Regardless, here we are with the majority of workers who have jobs compatible with remote work, working from home.   More importantly, it's become clear to employers that WFH has it's desirable place in the post-pandemic workscape – which is beneficial for both employees and employers.
Employees Share Their Thoughts In 2021 About WFH
Key 2021 survey data was published last month by global workplace innovator, Envoy, who partnered with Wakefield Research in polling 1,000 workers about safety concerns, sentiment towards hybrid work, and what will influence when and where people will work.  Some of the takeaways include:
Employers Are Helping Their WFH Employees' Office Setup
As widely published in mainstream news, most companies are embracing the Hybrid Work Model after experiencing the success in productivity sustainability during the pandemic-forced WFH mandate in 2020.  Just some of the names include Google, Facebook, J.P. Morgan Chase, Hitachi, Novartis, Fujitsu, Siemens, Verizon, Microsoft, Deloitte, and many more.
The most common model includes employees either working 2 or 3 days a week remotely from home or 2 or 3 weeks per month remotely from home. 
Most employers are providing assistance for employees setting up what may be permanent hybrid home offices:
Workers' Compensation Claims Are Rising
An in-depth article in Healthline last month cites unprecedented increases in Workers' Compensation Claim numbers for 2020 versus 2019 for injuries commonly consistent with working at a desk on a computer.  A major healthcare network management company and ancillary services provider for the workers' compensation industry, compared claim data between the years and found these changes in 2020 compared to 2019:
This year appears to be unprecedented, on track to eclipse 2020, as experts in the article cite the most common risk factors leading to injuries such as the above include postures, static positions, inadequate recovery time and contact stress.
Is The Value In 'The Tool' or In 'The Use of The Tool' or Both?
We have many very useful and adjustable choices in the office furniture and equipment marketplace today. Adjustable-height work surfaces (sit/stand), for example, when used with anti-fatigue mats, very definitely should be recognized as very useful pieces of equipment, so long as they are used. 
When not properly used by employees, however, adjustable furniture and equipment can be a tremendous waste of money and tragic in that they could have helped to prevent discomfort and eventual recordable and compensable injuries.
So what are the best ways to ensure proper long term use of the equipment and furniture you've purchased and attain maximum value?  The answers all come from understanding human behavior and the Novelty Effect.
The way in which we conduct ourselves is termed our behavior.  Helping employees adopt a regimen of working in neutral postures with periodic movement during their workday is a matter of behavioral change. Movement and recovery time while working is vital to healthy blood circulation and to allow removal of natural waste byproducts from muscles and tissue. Solid research shows that building a variety of movements into each day is a key in reversing the deleterious effects of static postures while sitting or standing.
So what happens, for example, when we deliver a highly-adjustable new office chair or shiny new sit/stand work surface to an employee? Of course, they'll be excited and revel in its newness for a couple of weeks but, longer term, do we expect them to abandon their current unhealthful behaviors developed over years? 
Perhaps we might give them a product brochure or a website or pay even more money to bring in highly paid consultants to give employees some training or pep talks?
So what happens after the honeymoon novelty phase of having anything new passes and there's no continual reinforcement?  You already know the answer.
Knowledge Training Is Not Behavioral Training

Recently, many employers have been realizing that only purchasing adjustable furniture and workstation equipment for remote employees and providing informational training, although important steps, is not enough to make good ergonomic behaviors automatic.  Subject matter experts call this The Behavioral Wall which can be identified through Behavioral Gap Analysis available in ErgoSuite.
If the "Setup and Inform Model" worked in human behavioral change, then everyone would have been using seatbelts while driving and there would have been no need for seatbelt reminders to be required in automobiles by law.
Continuing that thought, Applied Behavioral Analysis clearly shows that you don't change people's behaviors by simply providing adjustable seat belts in cars. You also do not change people's seat belt behaviors simply by having them take an online course or otherwise telling them to change.
What's required and what's saved millions of lives has been to reinforce the targeted behavior at the point-of-use. Behavior change is all about positive reinforcement at the point-of-use leveraging Operant Conditioning.
The take-away here is that computer-using employees are simply trying to perform their work at the best of their abilities to meet deadlines and objectives and not focused on EH&S and Healthcare Utilization – which is your job and vital for your organization's financial health more so now than it's been over the past 20 years before this abrupt expansion of Work From Home telecommuters.
Innovative Strategies Clients Are Using Now To Ensure Successful Behavioral Change

Some of the ways companies are leveraging ErgoSuite's tools across their remote Work-From-Home workforce include the following.  For immediate effective impact, without almost any effort at all, employers can keep to just the top three tools below and then consider anything further in the future:
ErgoTutor Office Ergonomics Training: Home Office Workstations
Employees complete the action-based course and "tune up" their home office workstations in addition to learning the best practices they should follow to share in the responsibility for healthy computing while working on their computers at home.  In addition, employees complete the Ergo Self-Assessment version of the Home Office Setup/Tune up Checklist which produces a personalized follow-up report for every employee in addition to gathering key data on the status of the Work-From-Home employee population.
A number of clients have customized the course and checklist to contain information unique for their companies.  Most employees are taking the course from within ErgoSuite and others are taking it directly through their company's Learning Management System (LMS).
Ergo Self-Assessments
Clients are heavily leveraging this unique web-based tool with ErgoSuite's built-in self-assessments for Office and Home-Office, while many others have created their own specialized self-assessments in ErgoSuite to gather a consistent baseline of ergonomic information about their employee populations working from home offices identifying outlying situations which can be resolved through a phone call, email or other contact.  
Often at clients, employees complete the Ergo Self-Assessment version of the Home Office Setup/Tune up Checklist which produces a personalized follow-up report for every employee in addition to gathering key data on the status of the Work-From-Home employee population and get a confirmation that employees have followed the checklist fully.  Some clients are customizing the checklist of recommendations contained in the personalized reports employees can receive after submitting their responses.
Desktop Behavioral Coaching Tools
ErgoSuite's unique behavioral coaching tools, for Windows and Mac, are being widely implemented to help employees learn to automatically work with the desired behaviors of using neutral postures, taking micro-breaks while working and moving about periodically during their day to stretch and break up static postures. Beyond the innate value to employees, it enables maximum return on investment in adjustable furniture and equipment.
Some clients have modified their ErgoSuite Desktop Icon Menus adding company-specific links to internal resources while others have done similarly with their web-based ErgoSuite Personal Console Menu.
In addition to the above, about 99% of clients are leveraging ErgoSuite's Discomfort Messaging for early reporting – in order to resolve issues while they're small and have the highest likelihood of success at the lowest cost – instead of later and unaddressed when they're reported as part of an injury claim.
We have also seen a number of clients adding the ErgoTutor Office Ergonomics Training eLearning Course as an effective immediate plug-in for their own Learning Management System (LMS).  It's comprehensive and available to employees within minutes after loading which takes about one minute.