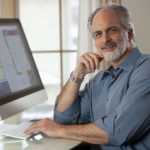 In a moment, we'll review Telecommuter Ergonomics and what our clients are doing right now. Before covering that important timely topic, all of us wish for you, your colleagues and loved ones to be safe during this COVID-19 pandemic. Today at SmartErgo, we're telecommuting and social distancing, we're here for you and our well wishes go out to all personally affected.
This article is for you, our clients, with helpful information you may find useful during the pandemic. We're here for you and hope that we can assist you however you need at this important and complicated time. Let us know whatever your new requirements are and we'll meet them together, side by side, as always.
Telecommuting Today
For many years, the virtual work location of the home office, has slowly and steadily been offsetting the central work locations of many organizations. Due to the advanced state of technology nowadays, for most employers today "the work that you do" is much more the focus than "where you do your work". Then again, world events can influence the numbers in dramatic and rapid ways.
Just days ago, CNBC produced an comprehensive review of telecommuting today which is, in the least, deeply troubling for experienced EH&S professionals. Of note regarding ergonomics are the common places in the home where most workers set up their workstation: CNBC News Video: COVID-19 and Telecommuting. The newscast begins with 15 seconds of update on the pandemic and the remainder of the video is laser-focused on telecommuting as a result of the pandemic.
Of course you already know that the practice of working "remotely" away from the traditional central work location is known as "telecommuting". The term was originated in the early 1970's by Jack Nilles, a NASA engineer, working remotely on a communications system. He's remembered, at least in part, for telling co-workers that he was "telecommuting" – and the current household term was first coined.
Prior to the Corona Virus Disease 2019 (COVID-19) outbreak, there were more than 5,000,000 people, in the U.S., telecommuting to work using a computer in their home office. At this early time, it's quite complex to accurately estimate how many people are now telecommuting due to the COVID-19 pandemic, however, a common multiplier heard from experts places the numbers most likely at "ten times" pre-pandemic levels.
Given a choice, some people prefer to telecommute while others prefer working at the central work locations of their employer. On one side of the spectrum, employees may have more social contact and less isolation working at the central work location. On the other side, employees who are self-motivated, organized and seek fewer distractions often prefer to telecommute. While telecommuting also saves significant commuting time and costs for employers and employees, it isn't for everyone.
Of particular interest is the look-ahead thought of what is the "new normal" when these difficult times pass. Some managers, resistant to change, expect that current expansions of telecommuters for safe distancing and safety precautions will quickly shrink back to pre-pandemic numbers. Recent surveys (2020 pre-pandemic) by Buffer, polled 3,500 telecommuters and present a much different picture of how people feel about telecommuting after having done it. The vast majority of those polled said they would seek a new employer, even at a salary cut, if required to return to the traditional "at work" office environment for more than 25% of their time.
Telecommuter Health & Safety Today
Providing a Structured Managed Safety Program for telecommuters is essential for many reasons and considered by many professionals to be at least as important as for workers at an organization's physical facilities where there's control of the environment, furniture and equipment. Effectively encouraging neutral postures and pacing "remotely" is challenging.

With the high variability of environment, furniture and equipment used by employees in their homes, a Structured Managed Safety Program for your computer-using telecommuters is central among the steps employers take to minimize and reduce the frequency and costs of new workers' compensation exposure.
A March 26, 2020 article in Risk & Insurance Magazine sums up the "why" regarding telecommuting ergonomics as well as "what organizations should be doing now" 5 Ways Ergonomics Can Help Improve Coronavirus Telecommuting – "Employers should realize that in order to maintain productivity and the health and safety of their employees, they need to provide whatever information or tools or resources are necessary to help while this work situation exists."
A person who is working from home and experiences wrist pain or neck or shoulder pain related to working at a computer is not very different than a person in a traditional office except that their training, self-assessments, professional assessments and other interventions need to be done remotely.
We've heard repeatedly from many clients over years how there's heightened concern that many of the people who telecommute are likely to be reluctant to report home office ergonomic issues and discomfort due to a private concern of the ability to telecommute being rescinded.
Instead of reporting issues to their employer, often telecommuters instead postpone addressing the matter, eventually attempt to quietly resolve symptoms through their personal doctor and look towards their health insurance to cover the bill. In most cases, this develops into unnecessary over-utilization of healthcare resources.
Structured Ergonomics Programs For Telecommuters Include:
Action-based Training Including Workstation Setup and Behavior Guidelines
Self-Assessment With Checklists and Personalized Recommendations
Point-of-Use Behavioral Coaching Tools for Micro-breaks and Stretching
Centralized Tracking and Management of Collected Data
Simplified Employee Reporting of Hazards and Symptoms
Automatic Identification and Notification of Threshold-Exceeding Metrics and Events
Poor Ergonomics Drives Healthcare Over-Utilization
It's well known that pre-injury employees experiencing discomfort, including telecommuters, consume a considerable amount of healthcare resources beyond obvious productivity loss. What's more concerning is that healthcare over-utilization is by no means confined to traditionally perceived high-risk groups.
A number of major studies have been published, over the past decade, which have examined this topic with many thousands of employees at multiple employers. An example recent research project "Work Loss, Healthcare Utilization, and Costs among US Employees with Chronic Pain" (Disease Management & Health Outcomes, Volume 13, pp. 201-208(8)), studied thousands of full-time employees and the annual total costs experienced for medical, pharmacy and productivity.
This study was consistent with other recent studies and the authors confirmed: "The findings demonstrate that employees with chronic pain experience frequent sickness absences and short-term disability days and consume a considerable amount of healthcare resources." The authors concluded: "Given the economic impact of chronic pain, employers and managed care organizations should evaluate the potential benefits in productivity resulting from workplace initiatives such as ergonomic modifications, rest breaks, or pain management programs."
What Clients Are Doing Today For Their Telecommuters
We've spoken with so many clients already this month who have called in and are leveraging the ErgoSuite platform they own to extend their Office Ergonomics safety net at their facilities to their employees newly telecommuting from home.
In short, the clear focus is on a core of three goals:
Office Ergonomics Training – Facility & Home Office   Objectives: Assist the employee with ergonomic setup of their facility & home office workstation and learn the basic ergonomic principals including working in neutral postures and pacing oneself during work. Document employee completion of the course.
Ergo Self-Assessment   Objectives: Gather a baseline of important information about the employee's home office workstation. Reinforce the Office Ergonomics Training course. Document employee completion of the self-assessment. Score and rank responses. Notify EH&S of threshold-exceeding self-assessments for review.
Desktop Behavioral Coaching Tools   Objectives: Reinforce the desired employee behaviors of working in neutral postures and pacing while working to provide recovery time (microbreaks and sit/stand breaks) especially in challenging home office environments.
In addition to the above, about two thirds of the clients who have called in are promoting Discomfort Messaging for early reporting – in order to resolve issues while they're small instead of when they're reported as part of an injury report.
We have also seen a number of clients adding the ErgoTutor Office Ergonomics Training eLearning Course as an effective immediate plug-in for their own Learning Management System. It's comprehensive and available to employees within minutes after loading which takes about one minute.